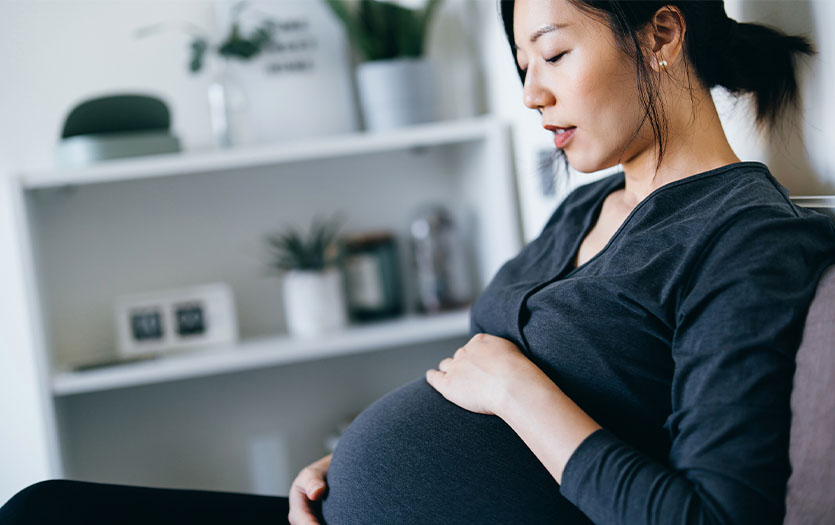 Deciding whether to receive pain medication during childbirth is a deeply personal decision that often takes careful consideration of the potential pros and cons, as well as the recommendation of one's healthcare team.
Unmedicated birth—sometimes called "natural childbirth"—may offer increased mobility, more control over the birthing experience and, for some, shorter push time with fewer tears and quicker postpartum recovery.
If you and your healthcare provider determine that an unmedicated delivery is right for you, these tips may be helpful as you prepare for birth day.

Eat well and exercise
Eating well and exercising throughout your pregnancy is a highly beneficial way to prepare your body for birth. According to the American College of Obstetricians and Gynecologists, regular exercise has shown to help with labor and may help lower your risk of needing a cesarean birth. If you weren't very active before being pregnant, try starting slowly and pace yourself. If you're able to, add a little more every day. Walking, low-impact or water aerobics, and yoga are great ways to be active during pregnancy.
Likewise, good nutrition helps your baby grow and helps both of you stay healthy. Choose nutrient-rich foods like fruits, vegetables, whole grains, and lean proteins. Get plenty of calcium from milk products, calcium-fortified products, and leafy green vegetables. Limit caffeine, refrain from alcohol and tobacco, and talk to your healthcare provider about what foods are recommended and what should be avoided during pregnancy.

Practice pain relief and relaxation techniques
There are numerous methods of pain relief and relaxation to try during labor and delivery. If you can, practice in advance to see what you like and what feels right to you. Some techniques to try include:
Breathing exercises
Music
Meditation
Massage
Hydrotherapy
Aromatherapy
Adjusting your position, moving around, stretching
A labor ball
A heating pad or ice pack

Communicate your goals
Ensure your support person(s) and healthcare team know that you would like to avoid using pain medication so they can give you the encouragement you need throughout labor and delivery, and help you with your practiced relaxation and pain relief techniques. You may want to consider writing out a birth plan so your preferences are clearly outlined.
There is also tremendous benefit in discussing different scenarios in advance with your team, to prepare for the unexpected and see how your goals align with potential situations as they arise.

Become familiar with your Parkview Family Birthing Center
Parkview's Family Birthing Centers offer everything you'll need not just on labor day, but also in the months leading up to it. In addition to staffing a supportive, skilled team of providers, we offer birth planning services, prenatal classes, lactation consulting, and more.

Be flexible if things don't go according to plan
Not everything during labor and delivery will go exactly as planned, so allowing some flexibility is important. Sometimes, medical pain relief or a cesarean section are necessary, and that's okay. You may change your mind during labor and opt for pain medication, and that's okay too. Ultimately, the top priority is the health and safety of you and the baby.
Parkview has an excellent obstetrics and maternity program with a phenomenal team of OB/GYNs, midwives and nurses to personalize your birthing experience. It is our honor to be a part of this momentous time in your life, and we're here to help you through a safe, healthy delivery.
Copyrighted material adapted with permission from Healthwise, Incorporated. This information does not replace the advice of a doctor.